Get a FREE Pair of Socks
Looking to get a FREE pair of socks? Well, you've come to the right place! The Sock Butler is a sock subscription website that is offering a free pair of socks with any purchase of one of our monthly sock subscriptions. Christmas is closing in on us and we don't have long left until we flood our loved ones with gifts that will warm their hearts (and feet).
Your younger brother might be interested in the latest sports socks that he can show off during his next footie game, or if your dad is full of surprises then you can surprise him every month with our "surprise" category. Each month we will pick for you a new pair of socks from the categories available and all you need to do is wait for your parcel to arrive at your door – a surprise every time!
As well as these types of socks we also offer
How to apply for free socks?
Click the "subscribe" button on the top right of your screen, this will take you directly to our sock subscription page - go through all the easy to follow steps, such as selecting how many pairs of socks you want to receive want each month, the type of socks that you are interested in and at the end of your check out you will be met by the page below. We offer free delivery in the UK.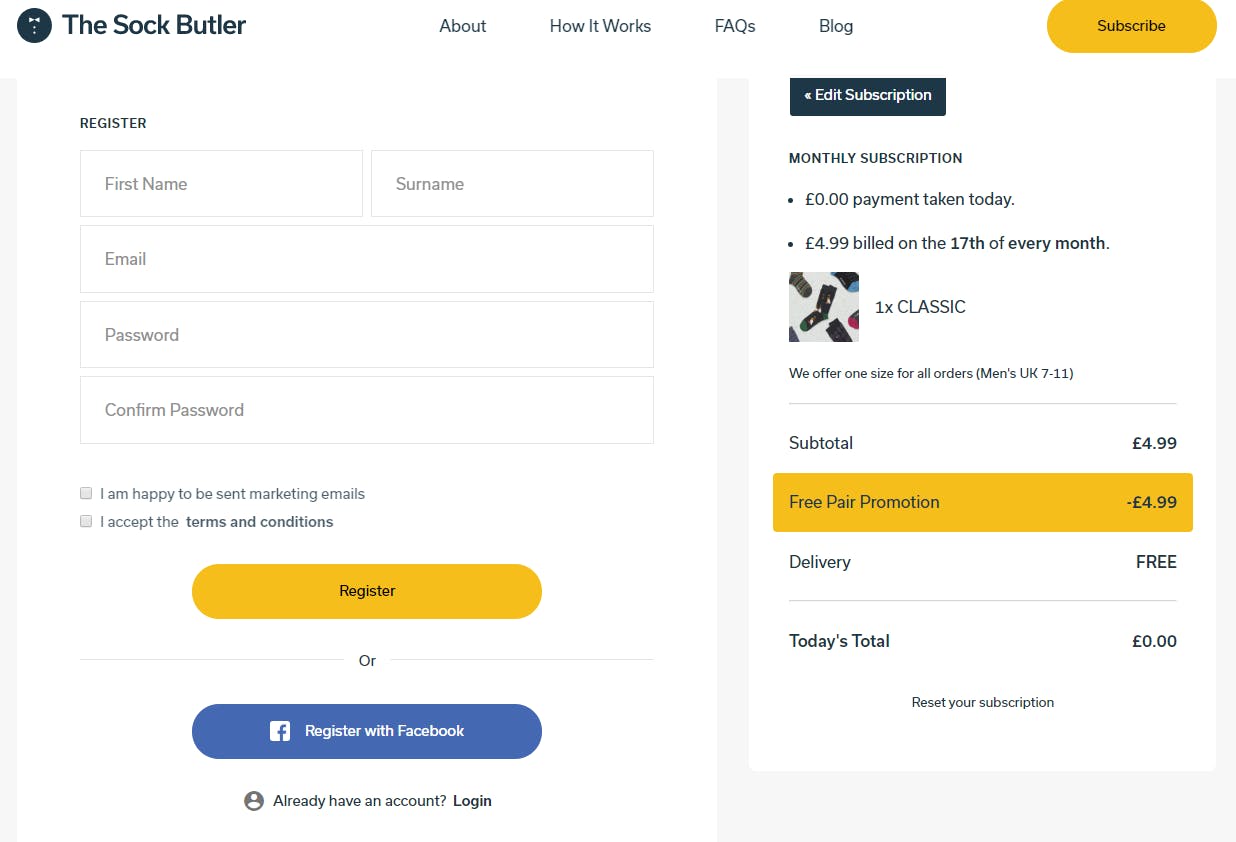 Free Quality Socks
We might be the new kids on the block but our knowledge of socks and sock subscriptions is well established. We are proud to be part of SockShop, one of the leaders in the UK sock market in the United Kingdom. We only use the best material for our socks, such as cotton-rich socks and bamboo.
Our socks are extremely comfortable and provide cushioning with your shoes, therefore, protecting you from any blisters or any irritable foot injuries.
We only use the best sock material
How our socks help keep your feet warm.
We stand by the quality of our socks; we use the best quality fabrics and materials on the market for our socks such as,
Bamboo is a sustainable, soft and popular material compared to others. Bamboo socks are great for people with sensitive skin and give that amazing feeling of luxury with every step you take. Bamboo is naturally anti-bacterial and therefore can keep your feet odourless and fresher for longer.
Cotton is one of the main go-to materials when it comes to socks. It's the perfect choice for someone who enjoys the feeling of grade A material on their feet but doesn't want to break the bank. Being rich in cotton also has other benefits, such as allowing the skin to breathe much easier and additionally helps with absorbency and odour control.
Select your style
Classic Socks
We offer a huge range of socks, catering for almost every occasion, fashion vibe and mood. For days when business is top of the agenda, choose from our range of classic styles and formal socks. Colours include smart blacks and greys, as well as plain socks with heel and toe contrast colours to add a touch of personality to the working day.
Trainer socks
Or think on your feet when it comes to hitting the gym with our range of trainer socks, carefully chosen to offer the ultimate in fitness support. Clever manufacturing methods ensure that your new socks will wick away moisture from your feet, leaving them fresh and comfortable as you work out. The trainer sock style is also perfect for showing off your toned calves and ensuring that your socks are working as hard as you are to stand out from the crowd.
Fashionable socks
Stake your claim as the ultimate trendsetter as you display your fashion acumen from head to foot. Our range of fashionable socks encompasses the very top brands and latest designs to ensure a winning combination of fashionable footwear that's designed to thrill. By taking out a fashionable sock subscription with The Sock Butler, you can really get ahead of the sartorial crowd this autumn.
Fun socks
As Christmas approaches, thoughts turn not only to choosing amazing gifts but also to the party season and looking good ourselves. Choose fun socks from The Sock Butler to kill two birds with one stone – get a gift subscription for someone who will appreciate some funky footwear popping through their letterbox once a month in 2020, and get some fun socks of your own – the perfect way to get the conversation flowing at any big night out!