Importance of keeping your feet warm
As storms, winds and rain ravage the UK, with parts of the country having to tackle snow and ice on top of that, it's more crucial than ever to ensure that we stay wrapped up and warm when we venture outside this winter. For one thing, many of us spend a lot of the day on our feet. It's not just about having a job or doing an activity that requires us to stand, walk or runabout, but we also need to physically get to our place of work and home again, know how to keep feet warm in winter at home and enjoy an active social life, whatever the weather.
Issues around cold, wet feet can include painful toes and even the risk of frostbite in extreme conditions. Wet feet can lead to hygiene problems and foot conditions, as well as make you feel uncomfortable and miserable. If you don't think enough about the importance of keeping feet warm and comfortable, you can also develop other problems, such as blisters, corns and bunions.
Keeping your feet warm in cold weather can also help keep your overall health in check during a time when the body is more vulnerable to seasonal coughs, colds and bugs. Having warmer feet opens up the blood vessels in them to allow more efficient blood flow and help your body to redistribute heat all around it. In turn, this helps you to sleep better, bring back your energy and generally take better care of yourself to stay comfortable, fit and well.
Here are some suggestions for how to keep feet warm in winter.
It takes two
If your feet feel cold with just one pair of socks on, slip on a second lot over the top for some extra warmth. No-one will notice and the extra layer adds a cosy, insulating sensation. If you plan to do this regularly in the winter, you might like to buy shoes with a little extra space. Choose thinner material for this purpose, as too much bulk around your feet and ankles may prevent you from walking comfortably.
Insulation ideas
If you would rather not double up on your socks, try adding some insulation in a different way to help care for your feet. Wrap paper around your toes for added warmth on a cold day – this will only work on dry days, however, as the rain can cause the paper to get soggy and annoying around your feet. You could also try using materials such as felt, or even a plastic bag to add a waterproofing element. Experiment at home first, so that you can make sure you feel comfortable walking around.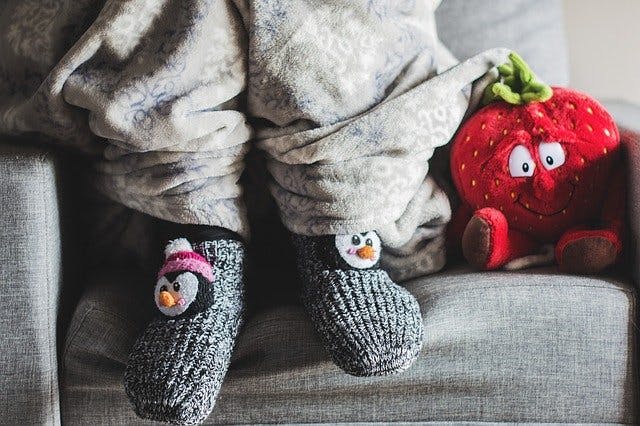 Avoid 'breathable shoes'
Sports shoes are growing ever more sophisticated, which is great for athletes and fitness fans. However, many shoes are marketed as being 'breathable', with mesh elements added to help eliminate sweat and keep your feet feeling fresh during physical activity. This mesh can become counterproductive in the cold though, as it allows the wind to access your feet and stops you from keeping your toes warm.
Toe the line
Talking of toes, there are several products out there that target the toes specifically and help you to keep them warm. Advice is readily available online around which products to buy for your particular circumstances. Toe warmers work by gently disseminating heat and warmth as you walk around, keeping your toes comfortable and at less risk of frostbite or damage from cold weather or damp conditions.
Don't sweat it
The many benefits of sweat-wicking socks are well documented, but opting for these types of socks and footwear in colder months gives you the added advantage of keeping your feet dry and less prone to injury from damp conditions inside the shoe. The best materials to choose from include wool, polypropylene or technical fabric found in custom-made walking socks. All of which are readily available to buy.
Sturdy shoes
While fashion may play a part in your choice of shoes, make sure that you choose sense over style this winter and pick out shoes that are both sturdy and waterproof to keep your feet warm and dry. Go for strong boots with some weight behind them and a proper, waterproof lining, a decent, grippy sole and good support for your feet and ankles, even when tackling harsher conditions, such as snow and ice. Make sure they are waterproof to prevent the rain and slush from getting in and soaking your socks and feet inside. If you need to wear smarter shoes at work to meet the office dress code, wear the sturdier shoes there and back and bring a second pair with you in a plastic bag to change into.
Speed up!
It might seem obvious, but the faster you walk, the quicker you will be able to get indoors again and out of the cold winter weather or the permeating bursts of rain. Make it a winter goal to up your speed whenever you are walking anywhere to keep your feet warm and dry, avoid being out in the rain for too long and add a new dimension to your cardio workout, weight management and health regime, as well as help you save time during your busy day.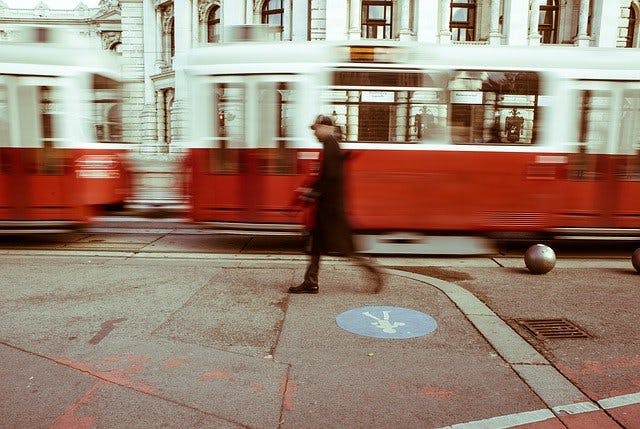 Ring the changes
Another top tip that might seem like it hardly needs saying, but don't forget that you can always pack a spare pair of socks in your briefcase, pocket or bag to change into if the ones you are wearing get wet and to keep your feet warm in cold weather. Remember that your whole body is affected if your feet are cold or damp; this simple tip is one of the best ways around to help you stay warm, fit and well, all day long.
Slip-on some slippers
Continuing with the theme that warm feet equal a warm body, wearing slippers around the house is a great way to care for your feet, preserve heat and keep your toes warm and your feet cosy this winter. From thick slipper socks with grippy soles to fleece-lined slipper boots that support your feet and ankles, there are slippers to suit every fashion preference and personality. They make a great birthday gift or treat for yourself and they help you feel comfortable while mooching about at home. What's not to like? Just don't forget to keep them in good repair to avoid any slips or trips from broken soles or loose stitching.
Footbaths for the win
A wonderful way to warm up the feet just before bed, or at the end of a busy day filled with cold weather with a lot of standing up and/or walking is to indulge in a warm footbath. Simply fill a bowl with warm water, add your favourite bath foam or essential oil, dip your feet in and relax. When you are finished, wrap your feet up in a fluffy towel and gently pat them dry. Bliss!
The best socks to keep feet warm
Finally, the best advice we can give to face a cold and wet winter is to build up a good collection of socks that will keep your feet dry, warm and comfortable, whatever the weather is doing outside. Having enough socks in your drawer to be able to simply look out of the window and pick out the best pair for the day is a great way to start the day off properly.
The Sock Butler's got you covered!
Make sure that your winter sock collection is fit for purpose and that you know how to keep your feet warm this winter with a monthly subscription from The Sock Butler. To learn more about the importance of keeping feet warm and our range of sock subscriptions, visit our website today.