New Year's Eve is almost here and with it comes too the excitement of parties and evenings out designed to welcome 2020 in style. Don't get left out this year – read on to discover our top ten tips for standing out at your New Year's Eve party in style. Don't be shy – show the world your true personality and make sure that you shine from head to toe!
Be prepared
Party preparations cover a wide range of activities if you want to be at your absolute best on the day, or evening itself. Work out where and when you must be at the venue and how you are going to get there – book a taxi or arrange a lift if you need to well in advance so you don't end up arriving late and stressed out.
Book yourself in for a haircut or styling session if necessary and do a practice run of any makeup you would like to wear. Choose your outfit and make sure it is clean and ready to go. Finally, just before you leave, line your stomach with a light snack or two to make sure that you don't end up drinking on an empty stomach.
Look the part
Choose an outfit that makes you feel great about yourself. Avoid any fiddly fastenings that may come undone or scratchy or uncomfortable clothes that will stop you from relaxing properly. Check out the dress code in advance and dress accordingly – you will feel awkward if you are not in line with the rest of the room in terms of formality levels, theme or style. If you are unsure what to wear, pick out one bold accessory that you love and think will work well for the occasion, and work out the rest of your look from there.
All in the details
Talking of bold accessories, take a tip from professional models, actors and party-goers and pay careful attention to the smaller details of your look. You will look more 'complete' if everything goes together and shows that you have given all of your sartorial choices careful thought. Add an interesting scarf, belt or piece of jewellery to customise your outfit.
Take a leaf out of Canada's Prime Minister, Justin Trudeau's book and opt for bold socks that show off your personality while still keeping you in line with the overall dress code.
If your sock drawer is leaving you uninspired this party season, perhaps it's time for a change. Take out a sock subscription service from The Sock Butler to receive a pair of brand new socks through your door every month, suited to your tastes, mood and lifestyle choices.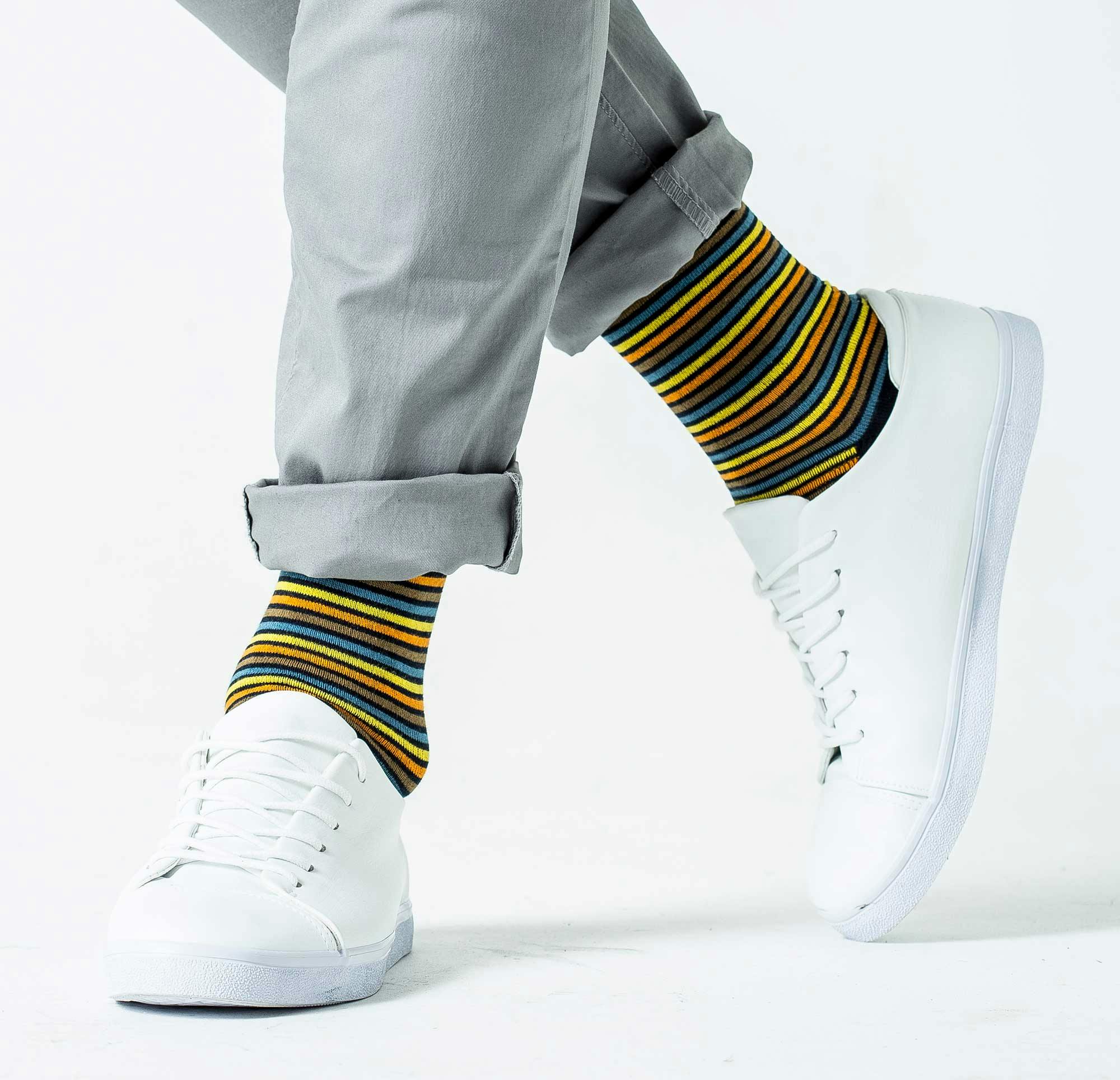 Make an entrance
Once you have sorted out your appearance and method of transport to the party, it's time to make a grand entrance. Unless you have your very own mini-orchestra to play your special fanfare as you enter, you will need to get yourself noticed in a different way. Stand up straight, walk with purpose and sport a beaming smile to get everyone on side straight away.
Never turn up empty-handed – take a bottle of wine, some flowers, party snacks or a gift for your host or hostess to show your appreciation for being invited. Don't fidget or apologise. If you feel uneasy at first, then follow the old adage and 'fake it until you make it!'
Be the perfect guest
Move around the room, greeting people you recognise and acknowledging others who catch your eye or approach you for a chat. Use a firm handshake, but not one that hurts the other person. Don't monopolise anyone for too long, but on the other hand, give whomever you are speaking to your full attention. No-one likes the feeling that their conversation partner is looking over their shoulder for someone more interesting.
Never, ever get your phone out and stand there scrolling through it as this will make people feel awkward and avoid you. If an opportunity arises to help the host or hostess take it, such as handing plates of canapes around or opening a bottle of wine but don't spend the party at the kitchen sink, or you will look like the hired help.
Get your chit chat on
Talking to people at a party is an art all in itself. Keep things light and happy in tone, avoiding contentious topics, such as politics, religion or illness. Ask questions and make sure that you give people the chance to offer their opinions and talk about themselves. Suitable topics for a New Year's Eve gathering could include what people did over Christmas, what they think of the party and their plans for 2020 and any New Year's Resolutions they may be planning. Or, if you are in Britain, the winter weather is always a guaranteed way to, pardon the pun, break the ice. Watch out for people standing alone, as they may be feeling awkward and would appreciate your reaching out. You may even make some new friends, so don't be shy!
Keep it classy 'til the end
While a New Year's Eve party is a fantastic chance to let your hair down and celebrate the start of a new year, it is vitally important that you act appropriately and don't cause any damage, hurt or embarrassment to yourself or anyone else. Pace your drinks – alternate an alcoholic beverage with a soft alternative and try not to mix drink categories too much. Eat plenty of food to help soak up the drink and if you start to feel disorientated or unwell, stop drinking alcohol immediately. When you leave, thank your hosts for the party and wish them well for the year ahead.