Choosing the right kinds of socks for the occasion, as well as the right colours for your mood and the most suitable material for comfort and performance involves many different decisions to be made. Done correctly, matching socks so that they are 'fit for purpose' really does become a sort of art form. Don't panic! However, here is a comprehensive guide to some of the more common sock choices and combinations to help you work out what to put on your feet.
6 different types of socks
Pulling on a pair of socks is an art form when done properly. It's no good sticking to just one kind of socks, there are many different styles designed for men, women and kids for use in different situations.
Dress socks
Men's formal wear is usually not quite as complicated as it is for women. For a start, men don't have to worry about the social devastation of turning up wearing the same outfit – they are normally all in some form of a dinner jacket or black-tie combo with opportunities for individuality somewhat limited. However, along with the snazzy bowtie and cummerbund, dress socks can also help you stand out from the crowd and show off your style.
For the most formal occasions, funky patterns or bright neons are not going to cut the mustard, however, you can still enjoy a wide choice of formal socks with different subtle patterns, materials and finishes. Above all, ensure that they are comfortable if your night is going to involve dancing of any substance. It's not just women who need to watch their feet when they are up dancing on them for hours on end.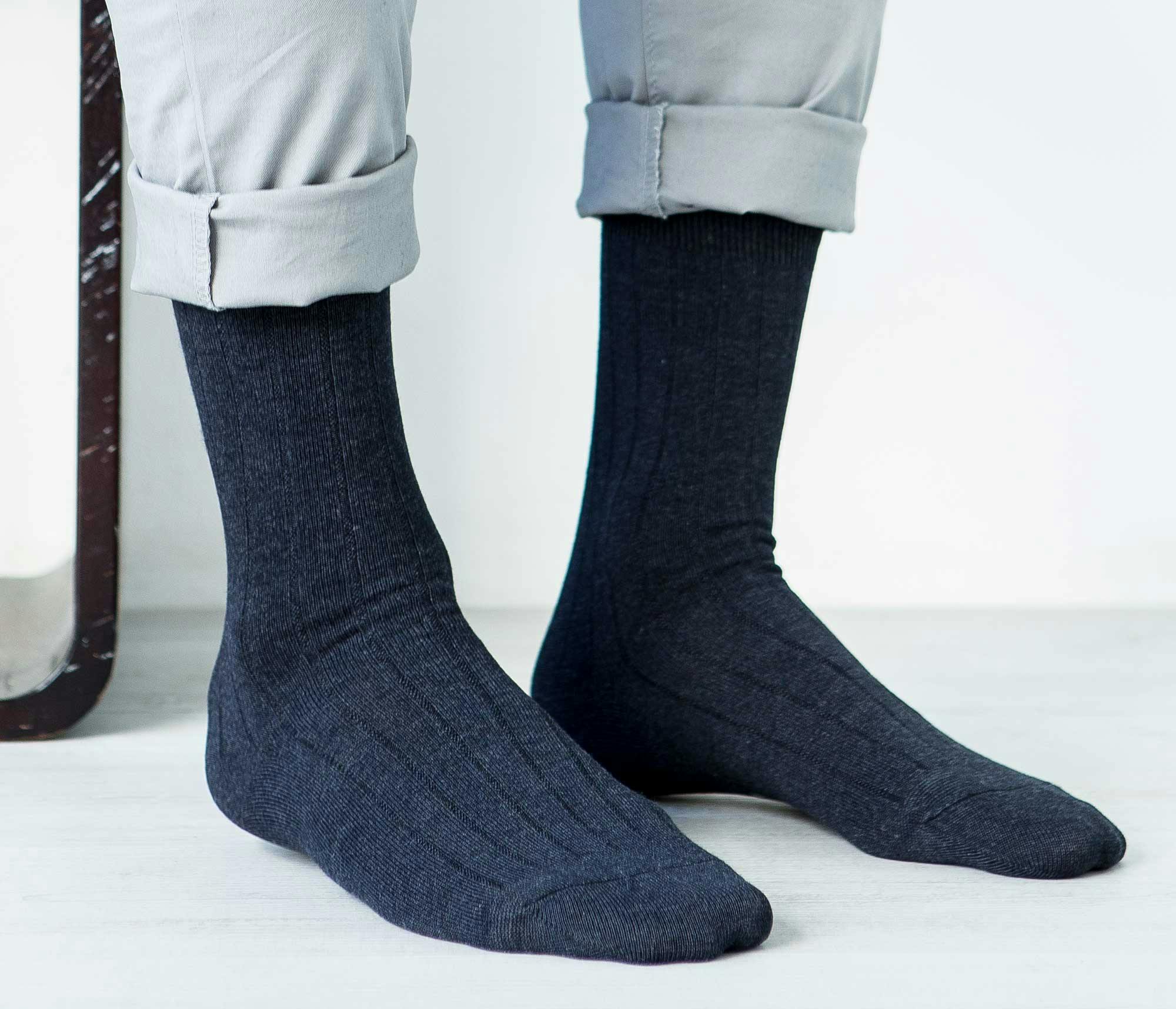 Business socks
Again, business socks usually complement a fairly standard outfit for men of a suit and tie, or maybe blazer and trousers get-up. However, whether or not your office makes you wear a tie or lets you dress down on Fridays, your socks must show a degree of professionalism and decorum in a formal office setting. Choose black, dark blue or grey for offices with a more traditional dress code, making sure that they are slightly darker than your trousers, but lighter than your shoes if you are not wearing black socks.
Good quality socks are a must, as they will help to inform people's opinion of you and your business skills. If you work in an office slightly more reminiscent of Google, Facebook or a trendy, young design agency, there may be more leniency when it comes to sock colour and design, but play it safe to begin with and find out what people usually wear on their feet to work.
Casual socks
The good news is that, when choosing your casual socks, you have a much wider selection. Anything goes – colours, styles, materials, length. If you are fashionable or want to present a well put-together look, choose socks that go with what you are wearing in terms of colour, length, style. For a more eclectic look, you might like to opt for purposely clashing tones, socks with slogans (keep them clean, though!) or funky designs on the big toe, ankle or heel. Again, it is important that your casual socks are comfortable, in good repair and easy to wear for whatever activity you are doing that day.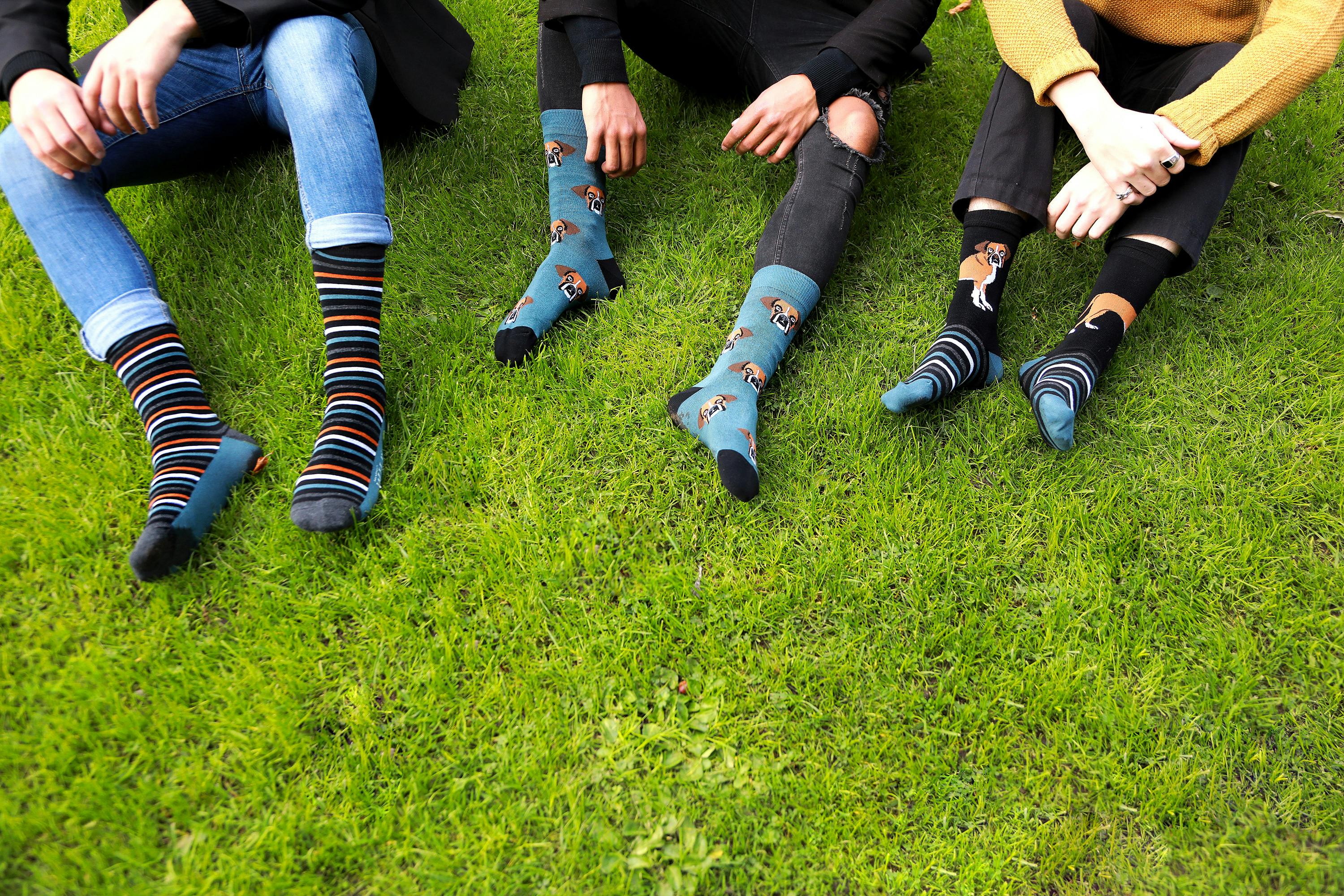 Sports socks
If that activity is something athletic or sporty, then you need to consider wearing specialist sports socks. These are made from strong materials, such as cotton, nylon or wool and are designed to wick away moisture and support your feet while you train, hike or play. For hiking socks, an added consideration must be smoothness across your toes, sole and heels as you want to avoid blisters forming if the socks crease up, are the wrong size or simply ill-fitting. The same goes for skiing, but with the added priority of warmth and thermal properties to protect the extremities from frostbite.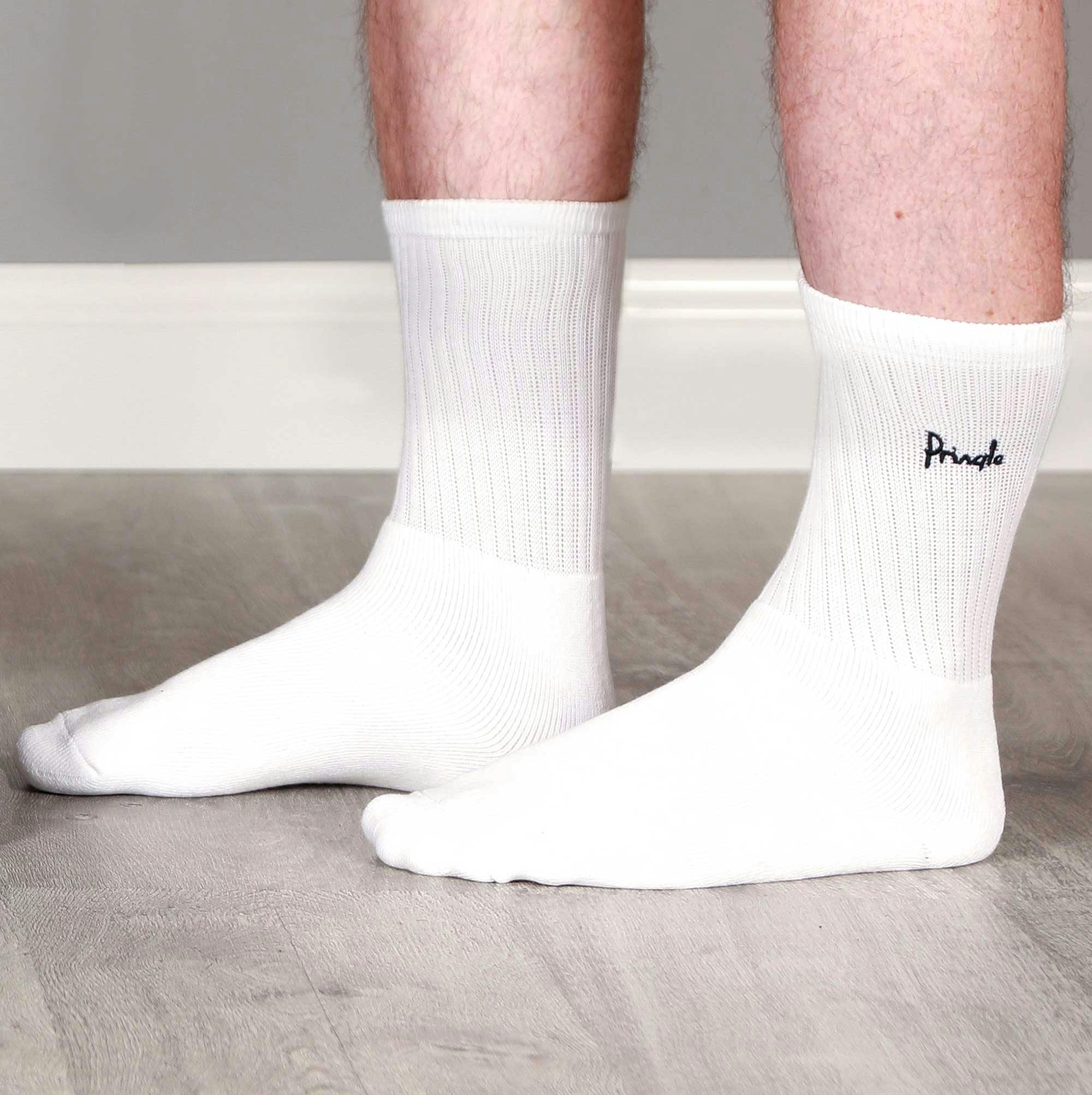 Thermal socks
Winter is made easier to bear with warm, thermal socks made from special materials that are designed to keep your feet warm and dry, whatever the weather. Thermal socks are great for all kinds of people, from older people protecting their health to commuters keeping warm during their journey into work. Thermal socks are made from fibres that are knitted more closely together. They tend to be bulkier than cotton socks to allow for better insulation and to keep out the rain. Thermal socks are available for men, women and children to help keep the whole family warm.
Specialist socks
Specialist socks include medical support garments, such as compression socks or stockings to help encourage blood flow to the legs and feet after an operation or when a person is sedentary or at greater risk of blood clots, for example during the later stages of pregnancy. They are also useful for long-haul flights to protect against DVTs and blood clots. Socks designed for people with diabetes also exist, offering non-restrictive elastic fabrics to minimise compression and pain, while helping avoid swollen ankles. Smooth toe seams can also help prevent ulcers from forming from unwanted friction.
Other types of specialist socks offer other benefits, such as an extra cushion to the sole or heels for more comfortable walking and standing and to improve blood circulation. Gel pads can be inserted for optimum comfort.
Different Types of sock materials
Once you have worked out what types of socks you need, the next step is to choose what they are made out of. Many factors will affect your choice of materials, from appearance to how they feel; durability or price. While there are many different types of socks material, here is a run-down of four of the most popular.
Cotton
Cotton has long been a popular choice of sock material and it does offer many advantages. Cotton is naturally derived, can hold its shape and colour well and tends not to be too expensive. Check the sewing of your cotton socks for irritating seams around the toes and heels, as these can lead to blisters or discomfort on the feet.
However, seamless cotton socks do exist and provide a soft and comfortable experience. Cotton is strong on its own but becomes even more appealing when mixed with a synthetic material, such as nylon or polyester. This adds elasticity and increases durability. Cotton socks look attractive and classy for a dressy or formal look; however, they are less suitable for working out or sporting activities as other materials are better at keeping moisture and odours at bay.
Wool
Socks have been made out of wool for much of history, and the warm, wrinkle-resistant material remains just as popular today. The natural fibres hold their shape well and are easy to wash. Wool absorbs moisture and odour and keeps its insulating properties even when wet. It also dries quicker than other materials, such as cotton.
Wool does have a few disadvantages, however, including most manufacturers' recommendations to wash woollen socks by hand and to dry them flat to keep them looking good for longer, rather than simply bunging them into the washing machine and letting them take their chance with the rest of the laundry. Also, if you choose lower grade wool, you may find that your socks cause some itching. The smoother wools to choose tend to be higher quality varieties, such as merino or cashmere.
Bamboo
Bamboo is a relatively new arrival on the socks scene. It offers undeniable advantages in the guise of softness, sustainability and the ability to keep feet fresh and cool. Bamboo has natural anti-microbial properties, meaning that it is a highly-effective hypoallergenic choice for people with skin issues, diabetes or other medical conditions.
Bamboo is an ecologically sound choice too, thanks to the sustainable methods by which it is grown and sourced. Finally, bamboo is soft and cosy, yet light and breathable. Perfect to take on holiday and it can fold up really small in the suitcase and is easily washed and will help your feet stay fresh for hours of walking and sightseeing.
Synthetics (nylon, polyester…)
Nylon, polyester and other synthetics are an extremely viable choice for socks, thanks to their abilities to keep moisture away, dry quickly and keep your feet cool in the summer months. They tend to hold their shape well, too. Nylon and polyester are easily available and used for socks and stockings of all lengths and styles. It is strong, stable and soft, retains dyes and dries quickly. Synthetics can often be added to natural fibres, such as wool, cotton or bamboo to make the fabric more stretchy, stronger and better able to hold its shape.
What are the different sock lengths?
Finally, a massive part of sock style is getting the length right. Too long, and you run the risk of your socks overpowering your outfit, or simply looking ungainly and wrong. Too short and you may not have given your feet adequate protection for the outfit you are wearing, or the activity you are doing. You can also make an outfit look unfinished or unbalanced with too short a pair of socks or the wrong types of socks.
Ankle socks
Ankle socks suit lower cut shoes, such as loafers, trainers and gym shoes. Along with slip-on socks, they are designed to protect the feet without showing above the shoe to give the impression that you are not actually wearing any socks at all. They look understated, yet add a nice finishing touch to a casual look. Team them with good quality gym, athletic or running gear or casual jeans and t-shirt outfit.
Crew length socks
Crew length socks come a little further up your foot, reaching about six to eight inches up your leg to your calf muscles. This is a highly popular length, especially for kids socks, as it helps protect young feet and ankles from insect bites, blisters and splashes from puddles etc. Crew length socks and the very similar quarter-length socks suit physical activities as they are informal, yet sturdy. They are also a great way to keep your feet and ankles warm during the winter months.
Calf-length socks
Calf-length socks tend to be more popular with men, especially those who enjoy sports and fitness activities. They offer added protection and warmth, stopping further up the leg and just below the knee. You can get calf-length socks in a wide variety of materials, including those specially designed to wick away moisture and help keep your feet fresh and ready for a good work out.
Knee-high socks
Knee-high socks are the final word in fashionable footwear, as their extended length offers a great canvass for fun designs and quirky patterns. They are a fantastic way to show off your individuality and add a vibrant colour accent to your outfit. Shine at a party and impress the world with your sense of style by investing in a bold selection of knee-high socks. Another ideal use for these types of socks is to provide an extra lining inside longer boots in the winter for added comfort when out in the cold.
Over-the-knee socks
Socks that pass the knee and stretch up to the thigh offer welcome versatility and protection for women who enjoy wearing skirts and dresses, whatever the weather, but don't always want to reach for stockings or tights. Again, bold prints add real individuality, while smooth, flattering colours add the perfect finish touch to any outfit or style.