So what are crew socks? In the wonderful world of men's and women's socks, there is a huge variety of styles, colours, sizes and – importantly – lengths. This article examines the highly popular crew socks phenomenon, paying tribute to the hugely versatile sock style that sits midway between the mid-calf and ankle at around six to eight inches tall.
Crew Socks
Crew length socks, synonymous with 'half-calf' in men's socks, are an essential part of anyone's wardrobe. They can suit all kinds of looks and styles. From sportswear and trainers to fancy shoes and outfits for hitting the town, a quality pair of crew socks can really add the perfect finishing touches to any dress code. You can wear them pulled up to look smart and business-like, or scrunch them down around your ankle for a more casual vibe.
They are great for wearing with mid or high top shoes, as they can prevent them from chafing your ankles, although they aren't always considered to be quite as dressy as taller alternatives. Crew socks come in all sizes too, from extra small to plus size. Meaning everyone can enjoy the benefits of pulling on a pair in the morning.
Crew socks In the summertime…
Crew socks come in many different types of material, including wool, cotton, polyester, bamboo, silk, cashmere and many more. It is a good idea to opt for a lighter material in the summer to allow your feet to 'breathe'.
Although you may prefer wearing ankle socks in warmer weather, the extra height that crew socks afford makes them a better bet for stopping those annoying midges and insects from attacking your ankles when you are out and about for a country walk.
Crew socks work well with business suits and casual trousers and shorts alike in the summer and are a nice, cooler alternative to longer socks when the weather is hot.
Winter warmth…
You can still wear crew socks in the winter; however, we advise you to go for a warmer version, such as cashmere or wool to give you some extra warmth and cushioning for your feet. Crew socks look good in both professional and leisure settings – why not choose some seasonal designs to add some festive fun to your feet at Christmas? The extra length, as opposed to ankle socks, will allow you to reveal more of your funky foot fashions.
Choose rich, wintery colours such as dark reds, greens and golds for some added luxury in the darker months. Don't forget, too, that crew socks are ideal for skiing and winter sports, as they offer decent coverage and warmth along with excellent versatility.
What is a mini crew sock?
Mini crew socks look pretty much like what you'd expect from their name. They are shorter versions of the standard crew sock, sitting low down like an ankle sock, or even just below the ankle so that they are barely visible above the shoe.
These are good for runners and athletes who want to keep their feet sweat-free and fresh while keeping their ankles and calves free and unrestricted by heavy, tall socks.
Mini crew socks can also look great with a fashionable outfit designed to look quirky and cute. The low 'pop' of colour just above or on along the edge of the shoes adds interest and a charmingly unique sense of style and individuality. They can particularly suit trainers, sandals, flats and low heels.
What are the different lengths of crew socks
As well as mini crew socks that peep out from the shoe, and the standard size that sits between the calf and ankle, crew socks can come in taller sizes for optimum flexibility in style and usage.
A taller crew sock sits at the mid-calf and above, offering a different option for sock styling. This is a great choice for anyone wanting to make a bold statement with their choice of footwear, and the longer length allows for more diverse design options and a larger surface to display.
Taller crew socks work well with ankle or calf-height boots too, for those who want to show off both socks and boots as part of their overall style.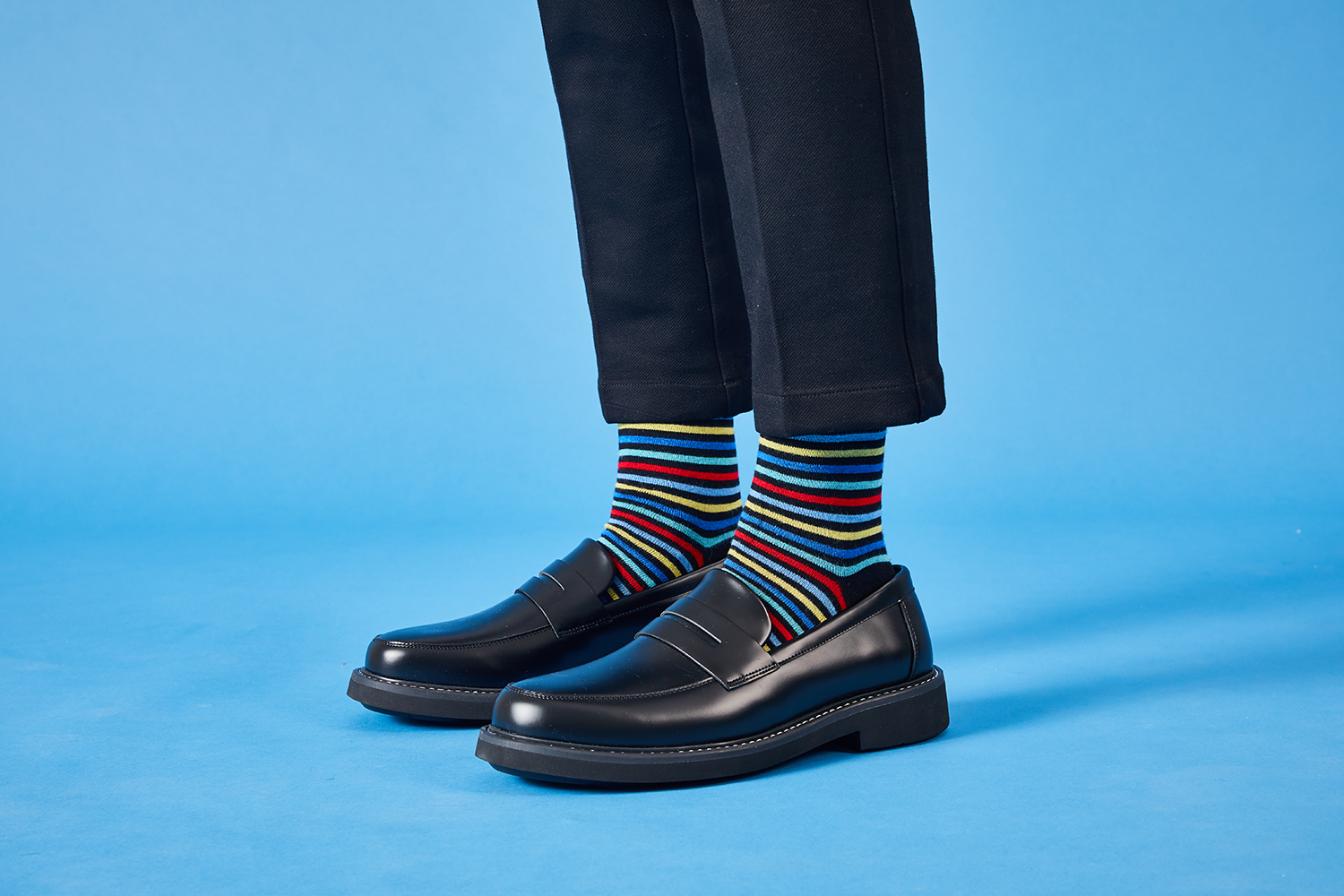 What are crew socks used for?
Crew socks are the ideal length for a great many usages for men and women alike. They are good for dressy occasions where you want to show off your snazzy sock designs and have enough length that you don't show any bare leg or calf when you sit down and your trousers naturally ride up a little.
More corporate, business-like occasions such as award ceremonies and AGMs call for a plainer, darker coloured crew sock – black or navy blue are safe, popular choices. More social occasions, such as balls, dances, or birthday parties allow greater freedom for brighter colours and bolder designs to complement, or even clash with your outfit as appropriate.
Crew socks are also great for athletic wear for similar reasons to the above. They are long enough not to make your ankles cold as you play and short enough to be unobtrusive. If you choose materials that can help wick away sweat, they also help you stay fresh, cool and focused for the whole of your match, race or game.
Finally, they are good types of socks to choose for casual wear, as they offer huge versatility, match almost any style of outfit and can be changed easily to a new pair of socks if they become wet or dirty.
They can be worn with most, if not all men's and women's shoes, boots and footwear. You can choose thin, cotton versions for warmer days or a thicker set made from pure wool or a wool blend that cushions your feet and heels during the winter months or on days when you will be on your feet a lot.
Crew vs ankle socks
The main difference between crew length socks and ankle socks is their height, as explained above. However, people choose to wear them for very different reasons. Ankle socks sit closer to the shoe, so they are a popular choice for people wearing shorts who don't want to have too many materials around their ankles as they work out, or who don't want longer types of socks distracting from the rest of their outfit. They tend to be worn low but fully pulled up, due to their shorter length.
Crew socks are worn pulled up and scrunched down to the ankle, with the longer length adding extra flexibility. They come in different materials, colours, textures and styles to fit into your daily life, whatever you are doing. They can be worn with sportswear, jeans, business suits, casual wear – the list goes on.
Add to your crew socks collection with a sock subscription
If your sock drawer is sadly lacking in crew sock variety, then why not browse our website at The Sock Butler? You can order a monthly subscription for yourself or a loved one to have a brand-new pair of men's crew length socks (also called 'half-calf') delivered to your door each month. You can set the type of styles you would like to receive for truly personalised service.